Everyone Deserves Comfort
At Grosvenor Mobility, your comfort is our priority. We believe that everyone should have the freedom to be able to relax in complete comfort independently in their home. It's why we proudly supply only the highest quality Rise and Recline Chairs and Adjustable Beds to aid you in your home.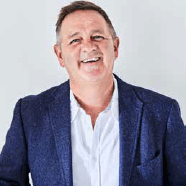 Leighton Roberts Managing Director
"Grosvenor Mobility was created by family, for family. With over 30 years experience, we understand the need for an honest, approachable and caring company in the world of mobility furniture and aids."
The Grosvenor Mobility Collection
When furniture is specially designed for your personal comfort, it must be made to measure. That's because ill-fitting furniture can cause a variety of health and medical problems.
We offer more than 2,223,000 combinations in our product range, all designed around you and your needs. This ensures our chairs and beds provide maximum comfort, support and distribution of weight – minimising pressure sores, relieving back pain and helping to improve poor circulation. Unlike 'off the peg' furniture – where you are expected to fit it – we only ever provide furniture made to fit you.
Free no obligation home-trial
3 Easy Steps
Book
Book your free no obligation demonstration, in the comfort of your own home. Choose a time to suit you. Nothing is too much trouble for our friendly team.
1
Customise
Customise the look, feel, and measurements of your bed or chair to best suit your needs and tastes so we can make furniture perfect for you.
2
Delivery & Installation
We will deliver and install your chosen mobility furniture at no extra charge, leaving you to relax in your new quality-tested bed or chair.
3

Book free home trial
Made To Measure For Comfort
When furniture is specially designed for your personal comfort, it must be made to measure. That's because ill-fitting furniture can cause a variety of health and medical problems. We offer more than 2,223,000 combinations in our product range
UNIQUE HANDMADE FURNITURE