Orthopaedic Rise and Recliner Chairs specially suited to your needs
Articles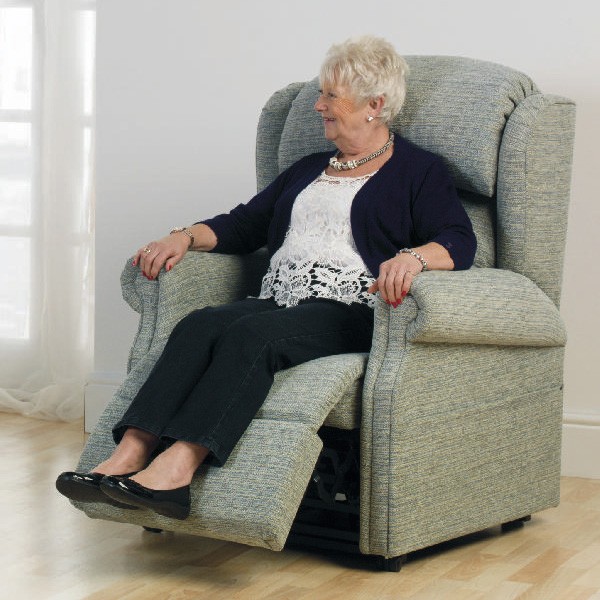 Having an orthopaedic riser and recliner chair is beneficial in numerous ways, helping increase the independence of an individual and promote comfort and support throughout their day-to-day living. Those who struggle with mobility, such as sitting down and standing up with ease, will enjoy the flexibility and support an orthopaedic rise and recliner chair provides.
If you would love the ability to get back on your feet again without the need for assistance, an orthopaedic rise and recliner chair could be just what you've been looking for. This article explores the benefits of orthopaedic rise and recliner chairs and how they can provide comfort and support that fits your lifestyle.
Are You Recovering from Surgery?
Orthopaedic chairs can help you recover in comfort, supporting you throughout your recuperation. Orthopaedic rise and recliner chairs support your body effectively after surgery, relieving the weight and pressures on your joints by letting you rest effectively, comfortably, and without causing further damage. Here at Grosvenor Mobility we stock a wide range of rise recliner chairs that can be made to fit you and adapted with your requirements in mind, making them ideal during your surgery recovery period.
Increased Independence and Mobility
One of the main reasons so many people purchase our rise and recliner chairs is because of the increased independence and mobility they offer. Rising to meet you and lowering gently to sit you down, our rise and recliner chairs help you regain that independence you may have lost due to mobility issues or surgery restrictions. With your own orthopaedic rise and recliner chair, you can move around your home more easily and sit and stand without assistance.
Comfort Designed Around You
The great thing about the orthopaedic riser and recliner chairs we sell here at Grosvenor Mobility is that they can be designed around you and your requirements. Here at Grosvenor Mobility we know that every person is different and, therefore, everyone requires something different from their chair. That's why we offer the following optional extras for you to choose from to customise your chair:
Head cushion
Rechargeable battery pack
Arm covers
Heat and massage
Padded arms
Soft touch anti-macasser
Head cushion
Fabric protection
In addition to any of the above, we also offer a chair in your choice of colour, material, and style. Whatever you require to make your chair just right for you, our team at Grosvenor Mobility have you covered. We would be more than happy to answer your questions, help you choose the best accessories, and customise your orthopaedic riser and recliner chair to suit your needs.
Superior Comfort with Orthopaedic Chairs
Here at Grosvenor Mobility we understand that sitting for long periods of time can cause aches and pains to worsen, often leaving you feeling uncomfortable. However, the benefits of our orthopaedic chairs is that they offer supreme levels of comfort at the click of a button. You can sit, recline, or put your feet up without having to move from your chair. Not only is this extremely helpful, but it also helps reduce inflammation, aches, and joint pain.
Experience Reduced Back Pain
Although orthopaedic riser and recliner chairs do not cure back pain, they can help reduce it temporarily. If you've been experiencing a bad back throughout the day, the additional of a riser and recliner chair to your living room could help significantly. The comfort of a riser and recliner chair provides the support and relief you need at the end of a busy day and can help you put up your feet and provide full support for your back. Relieving the pressure off your back and easing you into a more supportive position can see your back pain reduce.
We Provide Free In-House Demonstrations
Are you interested in exploring the benefits or our orthopaedic riser and recliner chairs for yourself? Well, here at Grosvenor Mobility we are proud to provide all our customers with no-obligation demonstration services that are provided at a time that suits you and in the comfort of your own home. No charge, no obligation, and no hassle. What are you waiting for!
All Our Orthopaedic Riser and Recliner Chairs Include:
A free home demonstration
British-made
Call Grosvenor Mobility Today
If you would like to know more about the Orthopaedic riser and recliner chairs we sell at Grosvenor Mobility, call us today. We would be more than happy to answer any questions you may have and advise you on the best chair for your needs.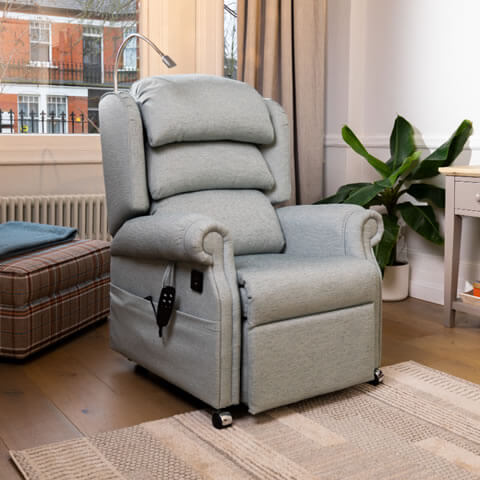 The Chair Collection
At Grosvenor Mobility, your comfort is our priority. We believe that everyone should have the freedom to be able to relax in complete comfort independently in their home. It's why we proudly supply only the highest quality Rise and Recline Chairs and Adjustable Beds to aid you in your home.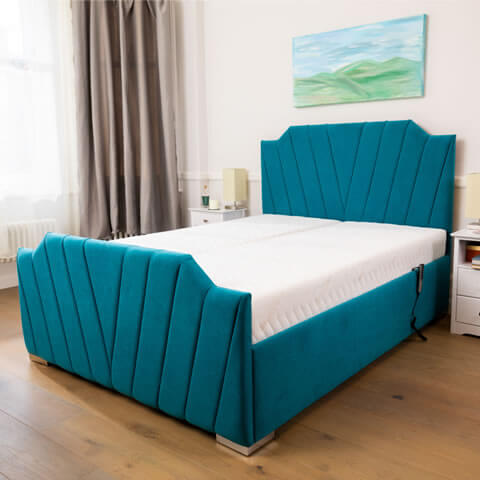 The Bed Collection
The bedroom is your sanctuary. It's your place to rest, unwind and totally relax. But to do so, you need the perfect bed; comfortable and luxurious. At Grosvenor Mobility our range of Adjustable Beds do just that. Featuring easy to use handsets that operate our ultra-quiet motors allowing you complete control at the touch of a button.