Riser Chairs from Grosvenor Mobility
Articles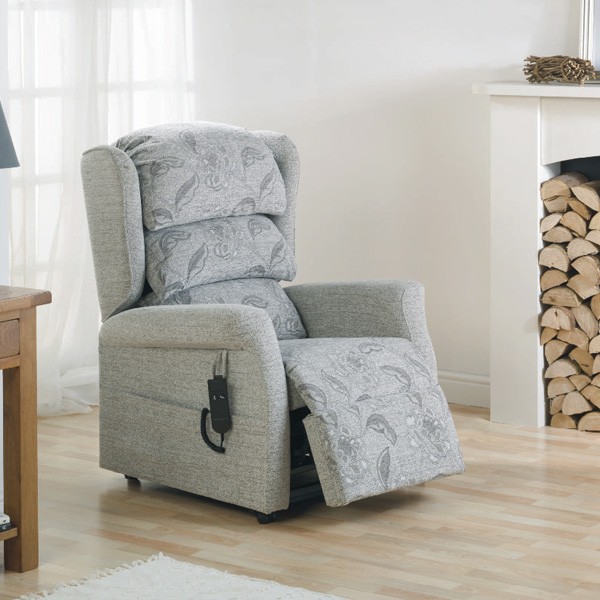 Do you want a level of comfort in your home like never before? Do you want to be able to easily relax and enjoy resting at home without the worry of achy joints or standing up again? Our riser chairs could be just what you're looking for!
Rapidly growing in popularity over the past few years, our riser chairs allow individuals increased independence, ease of mobility, health benefits, superior comfort and so much more! It's understandable why riser chairs are popular among all age ranges and a great addition to anyone's lifestyle.
Grosvenor Mobility Riser Chairs
Here at Grosvenor Mobility we are proud to provide our customers with riser chairs in a wide variety of colours, styles and designs. When purchasing a riser chair through Grosvenor Mobility, it doesn't matter how old you are, or whether you have any ailments, our chairs are beneficial and available for everyone.
We at Grosvenor Mobility are proud to supply our customers in the UK with riser chairs that suit their needs. Whether you need that little extra assistance to stand up, or you require a comfortable place to sit that doesn't cause your body to ache and complain, our riser chairs could be just what you need.
About Grosvenor Mobility
Here at Grosvenor Mobility, we are passionate about improving the lives of our customers through comfort, increased independence and functionality. That's why we provide riser chairs for all our customers that cater to the need of each individual. If you purchase a riser and recliner chair from Grosvenor Mobility, you can be sure of a high-quality chair that will last a very long time.
Riser Chairs Help in Two Important Ways
If you find it difficult to stand up or sit down with ease, you may find riser chairs extremely beneficial. Getting the right riser chair for your needs can be a great help if you're looking to increase your independence and mobility. Riser chairs are helpful in two important ways:
The rising action helps you to sit down and stand up with ease
The reclining action can help to make you more comfortable and ease problems with your back and other medical ailments.
Those who struggle with mobility are increasingly turning to riser chairs for additional help and support in their daily lives. If you are looking for continual support and comfort while you are seated (even for long periods of time), riser chairs could be just what you need. What's more, they can help you independently get to your feet again.
Riser Chairs Provide Temporary Pain Relief
Do you find that when you sit for a long time your body can become achy and sore? This is a common problem and unfortunately something many people suffer with. However, an achy body isn't something you need to put up with. At Grosvenor Mobility, the riser chairs we offer our customers provide temporary relief for people with medical complaints such as:
Arthritic pain
Aching joints
Back ache
Of course, we understand that good posture is essential in avoiding the distressing pain or discomfort caused by back problems or medical ailments. That's why all riser chairs we provide at Grosvenor Mobility are made to ensure your body is correctly supported to ensure aches and pains are relieved.
Stay Independent for Longer
One of the unfortunate aspects of increasing age or medical ailments is a reduction in independence. By purchasing a riser chair from Grosvenor Mobility, you can stay independent for longer. Most of us prefer being able to move around our homes unassisted and certainly do not want to feel dependant on others. If you resonate with this, our riser and recliner chairs may be just what you need. At the simple touch of a button you can lower yourself into a sitting position or rise yourself into a standing position, restoring your independence.
Do Not Sleep in Your Riser Chair
Although riser chairs are extremely comfortable, they are not intended for sleeping on for extended periods of time. However, if you have difficulty getting into bed at the end of the day, you could consider buying an adjustable bed to help ease the transition from one place of comfort to the next!
Riser Chairs with Grosvenor Mobility – Comfort Designed Around You
The riser chairs we provide our customers, here at Grosvenor Mobility, are extremely comfortable and can help support you safely and comfortable for long periods of time. All our riser chairs are fully adjustable, helping you find the perfect position of comfort. Whether you are rising or reclining in your chair, our riser chairs fully adjust around you for superior comfort.
What We Offer at Grosvenor Mobility
Here at Grosvenor Mobility we work hard to provide the best customer service and the most high-quality products we can. That's why all the riser chairs we provide our customers with include the following benefits:
Call Grosvenor Mobility Today
Are you interested in purchasing a riser recliner chair? Call us today! We would be more than happy to answer any questions you may have, advise you on the best option for you, and even provide you with a FREE home demonstration! How does that sound? If you're interested, please give us a call today, we would be more than happy to tell you all about the riser chairs we provide!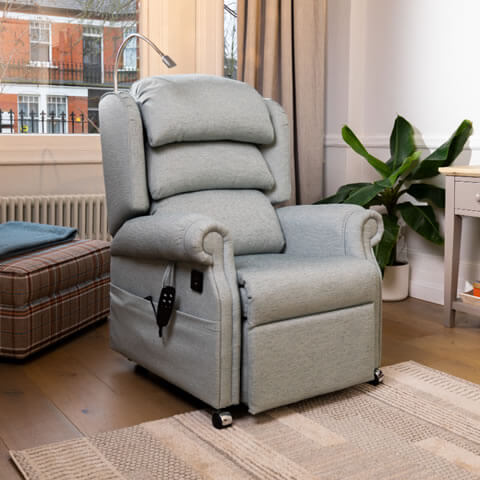 The Chair Collection
At Grosvenor Mobility, your comfort is our priority. We believe that everyone should have the freedom to be able to relax in complete comfort independently in their home. It's why we proudly supply only the highest quality Rise and Recline Chairs and Adjustable Beds to aid you in your home.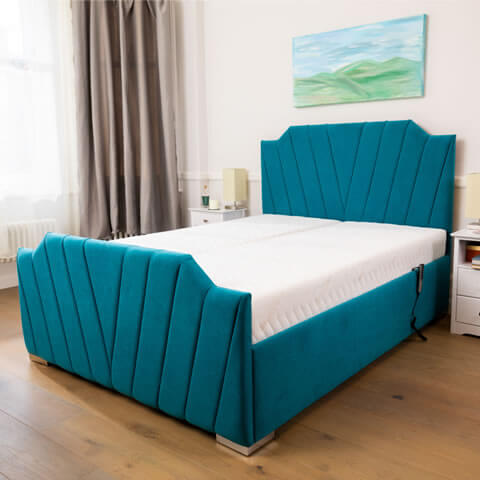 The Bed Collection
The bedroom is your sanctuary. It's your place to rest, unwind and totally relax. But to do so, you need the perfect bed; comfortable and luxurious. At Grosvenor Mobility our range of Adjustable Beds do just that. Featuring easy to use handsets that operate our ultra-quiet motors allowing you complete control at the touch of a button.