The benefits of Split Adjustable Beds
Articles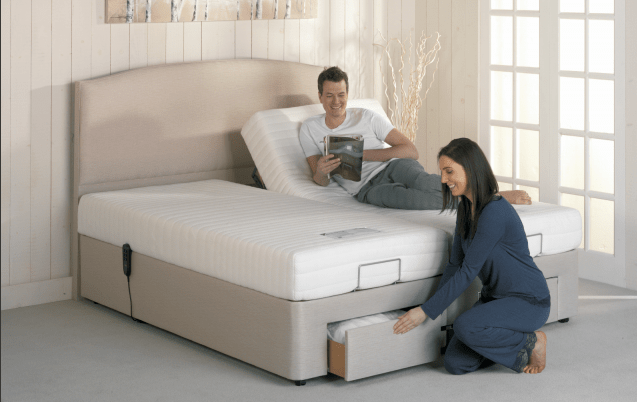 Split adjustable beds are one of the most common designs we sell to couples here at Grosvenor Mobility, and it's easy to see why – they have so many benefits!
If you've been researching adjustable beds, it is very likely you've come across split adjustable beds. These are available in a variety of sizes and for many people, would be there first choice when it comes to bed design and quality. However, do they really live up to expectations? Below is a list of the benefits of split adjustable beds to help you understand just how fantastic these adjustable beds really are.
Spit Mattresses are Easier to Move
One of the benefits of having a split mattress and adjustable bed is that it is far easier to move than a regular king-sized mattress. This is helpful for people wanting to navigate their bed into a new property, into a different room of the house, or simply facing a different direction in the bedroom. Whatever reason you may have for moving your bed, having a split adjustable bed is significantly easier to move than more traditional.
Split Adjustable Beds Accommodate Different Preferences
Everyone has different sleeping positions and preferences. In many relationships, each partner often requires different things from a bed. For instance, one partner may suffer from bouts of acid reflux or heartburn that may make sleeping difficult. While the other partner may enjoy sleeping with their head raised.
In such cases as these, the benefits of a split adjustable bed cannot be emphasised enough. Split beds allow both partners to get a full and good night's sleep by enjoying their sleeping preferences without annoying or disturbing their partner.
Eliminates the Problem of Motion Transfer
Many people know the disturbance of being woken up every time their partner changes position in bed or gets up in the middle of the night to go to the bathroom. However, sleeping on a split adjustable bed eliminates the problem completely. Ordinarily, on a traditional mattress, you would be alerted every time your partner moved, while on a split mattress the problem is eliminated.
Easy Replacements and Adjustments
We spend a fair bit of our lives in bed, so it's no surprise that over time our mattresses can weaken and require replacement. However, having a split adjustable bed can be a significant money-saver as there are less replacements or adjustments involved.
Since the mattresses of a split adjustable bed are individually contained, they can be replaced or exchanged with ease on either side, without the need to pay out a large sum to have both or one large traditional mattress replaced. Regarding latex mattresses, this fantastic benefit means that one mattress can be adjusted effectively for firmness without impacting the health of the other mattress.
The Provision of Personal Space When You Want It
Sometimes it is nice to go to bed and read a book or enjoy some time relaxing on your own. However, sharing a bed and a mattress can sometimes inhibit personal space and mean that you can't sit up and read if your partner wants to sleep etc.
With a split adjustable bed, you can raise your head or feet, depending on your preferences, find the right position for you, and get in and out of bed without disturbing your partner. This gives you the personal space you need when you want it without disturbing your partner.
Reduction in Snoring
If you have a partner who snores constantly throughout the night, an adjustable bed can be extremely beneficial. However, it may be you don't want to sleep at an angle all night just so that your partner's snoring is reduced. If that is true, why not try a split adjustable mattress? This allows your partner to position themselves in such a way to reduce snoring, while you can lay flat, raise your feet, or adjust your mattress to whatever suits your sleeping habits best.
And the best point of all is that you won't have to put up with loud snoring throughout the night, because one of the benefits of adjustable beds is that they can reducing snoring!
Purchase an Adjustable Bed from Grosvenor Mobility
Here at Grosvenor Mobility, we sell a variety of high-quality split adjustable beds and they are some of our most popular products for couples. If you would like to know more about the split adjustable beds we sell and how they can benefit you, please do not hesitate to call our team at Grosvenor Mobility today for more information.
Free Home Demonstration Services
Are you considering purchasing a split adjustable bed but you're unsure about whether or not it's the right decision for you? The split adjustable beds we provide our customers here at Grosvenor Mobility are all extremely high-quality, durable, and aesthetically pleasing. But don't just take our word for it! Why not take advantage of our free home demonstration services?
Here at Grosvenor Mobility we provide free home demonstration services. That means we come to your house at a time that suits you and demonstrate how our adjustable beds work. This gives you the opportunity to see our products for yourself, try them out, and see how they would work in the space that you have.
To find out more, call our team at Grosvenor Mobility today.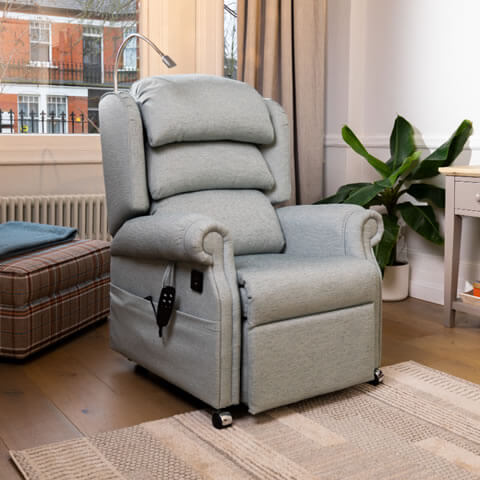 The Chair Collection
At Grosvenor Mobility, your comfort is our priority. We believe that everyone should have the freedom to be able to relax in complete comfort independently in their home. It's why we proudly supply only the highest quality Rise and Recline Chairs and Adjustable Beds to aid you in your home.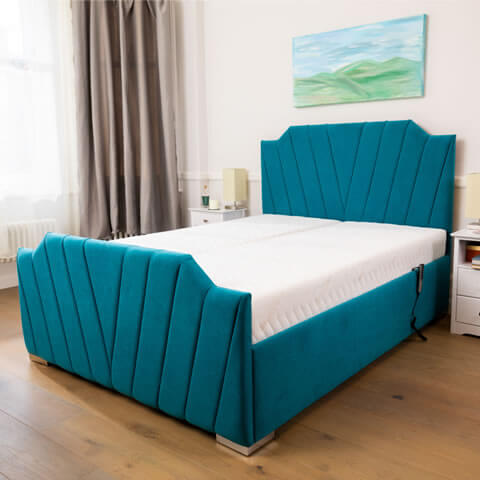 The Bed Collection
The bedroom is your sanctuary. It's your place to rest, unwind and totally relax. But to do so, you need the perfect bed; comfortable and luxurious. At Grosvenor Mobility our range of Adjustable Beds do just that. Featuring easy to use handsets that operate our ultra-quiet motors allowing you complete control at the touch of a button.