All you need to know about Electric Adjustable Beds
Articles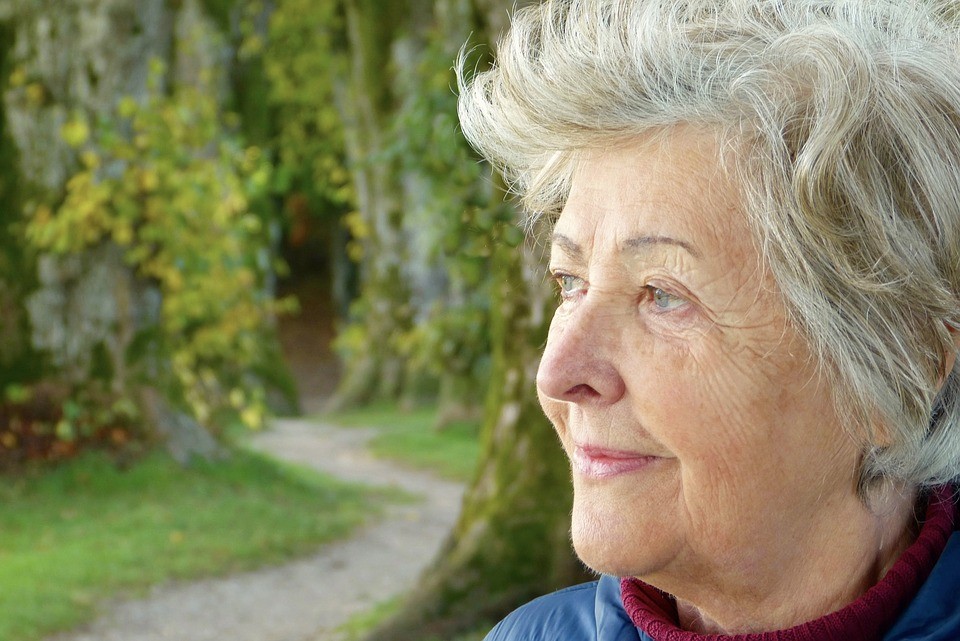 Have you ever thought about getting an adjustable bed? Perhaps you assumed they were only available to hospital patients. However, electric adjustable beds are available to the general public and are proven to be beneficial for your health. So, it's no wonder that they are becoming increasingly popular.
What Does a Good Night's Sleep Look Like?
If you're reading this article, it's possible you've not had a good night's sleep in a very long time. Of course, we understand that there are many things that can get in the way of a good night's sleep, such as aches and pains, acid reflux, headaches, sickness, and so much more.
However, most of these difficulties can be solved by using the right sort of mattress. In fact, having an adjustable bed can be especially helpful for people suffering from ill health or sleep problems. No matter your age, having an adjustable bed could significantly improve your sleep!
What is an Electrical Adjustable Bed?
Quite simply, an electrical adjustable bed is a bed that can be adjusted electrically. That is, at the push of a button! Most adjustable beds are electric for ease of use, increased comfort, and convenience.
Adjustable beds provide increased levels of comfort, thanks to the multi-hinged mattress which can be moved and adjusted into a number of different positions. Whether you need to sleep on a slight incline, with your legs raised, or with your upper body raised, an adjustable bed can help you do that!
Who Are Electric Adjustable Beds for?
Electric adjustable beds are available for anyone, but they are designed specifically for people with medical conditions or mobility problems. However, we would recommend that if you struggle with sleep (whether you have health or mobility problems or not), an adjustable bed could solve the problem for you!
Adjustable Beds Improve Medical Problems
If you suffer from medical problems such as allergies, asthma, acid reflux or arthritis (to name a few), electric adjustable beds can help support you by elevating your head or legs and providing relief to limbs by releasing pressure on the body's joints.
The various positions electric adjustable beds allow you to sleep in can help increase blood circulation around the body, reducing a myriad of health conditions, including high blood pressure and heart disease If you have medical issues you struggle with, purchasing an adjustable electric bed could be just what you've been looking for.
Electrical Adjustable Beds Increase Your Independence
If you struggle with arthritis or mobility issues due to health problems or your age, having an electrical adjustable bed could be just what you've been looking for. Adjustable beds make it easier for people with reduced mobility to get in and out of bed without assistance. This helps provide people with more independence as they can get in and out of bed unaided. What's more, an adjustable bed will also help the sleeper find a more comfortable sleep position on their own – adjusting to the shape of their body – without the need for assistance.
Many Electric Adjustable Beds Have Temperature Control
There is possibly nothing more luxurious than a bed that warms itself up for you during the winter or cools off during the summer. And many electric adjustable beds offer this sought-after benefit. What's more, your adjustable bed may vibrate to help lull you to sleep for those nights when you simply can't fall asleep on your own.
Nothing is More Comfortable than an Adjustable Bed
It's as simple as that. There really is nothing more comfortable than an adjustable bed and – being electric – you can adjust your bed into the perfect position at the touch of a button. Imagine floating on a cloud or being suspended on water without having to work to stay afloat…adjustable beds suspend you in a zero-gravity. Don't believe us? Try an adjustable bed for yourself and see what you think!
Available in the Perfect Size
Are you worried that an adjustable bed won't fit in your bedroom and that it will be too big for your space? Then worry no more! Whether you need a single adjustable bed, or you would prefer a roomy king-size electric bed, there are so many electric adjustable beds to choose from that you'll be spoilt for choice!
The best way to decide whether an adjustable bed is right for your property size and lifestyle is to request a free, no-obligation home demonstration service. This way, you can see what an adjustable bed will look like in your home, whether it will fit, and you get to try the bed for yourself! What could be better than that?
Request an Adjustable Bed Today
Here at Grosvenor Mobility, we are proud to provide our customers with electric adjustable beds that are high quality, reliable, and – most importantly – extremely comfortable.
We have built our reputation on supplying quality products and first-rate services to our customers. We believe that quality of life is greatly improved with an adjustable bed as it allows for increased independence and multiple health benefits that can increase the health, comfort, and happiness of an individual.
Don't believe us? Give us a call today and ask what our adjustable beds can do for you.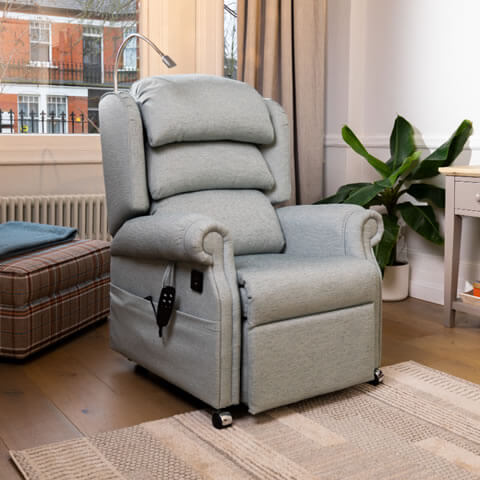 The Chair Collection
At Grosvenor Mobility, your comfort is our priority. We believe that everyone should have the freedom to be able to relax in complete comfort independently in their home. It's why we proudly supply only the highest quality Rise and Recline Chairs and Adjustable Beds to aid you in your home.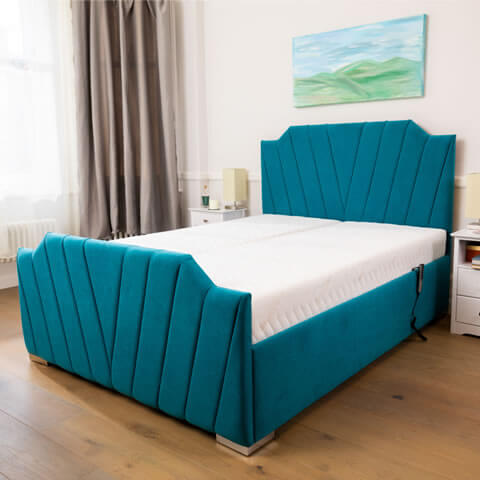 The Bed Collection
The bedroom is your sanctuary. It's your place to rest, unwind and totally relax. But to do so, you need the perfect bed; comfortable and luxurious. At Grosvenor Mobility our range of Adjustable Beds do just that. Featuring easy to use handsets that operate our ultra-quiet motors allowing you complete control at the touch of a button.