Articles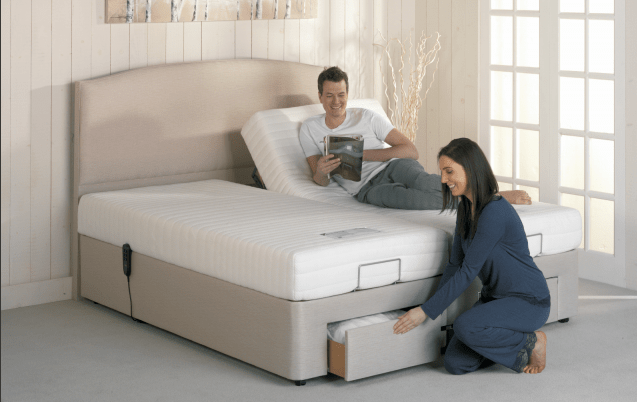 Reclining beds are rapidly becoming one of the most popular bed choices for people in the UK. Whether you struggle with mobility problems or not, reclining beds are extremely beneficial. At the touch of a button you are able to adjust your bed to support your head, legs or both into a position that is most comfortable for you.
Being in a comfortable resting position is priceless and can help ease discomfort and allow you to rest more successfully. Reclining beds allow you to rest in comfort for as long as you need to.
What is a Reclining Bed?
Reclining beds, otherwise known as adjustable beds are beds with adjustable bases that are available to customers throughout the UK. Although reclining beds used to be primarily available for hospital patients, the elderly or those suffering with mobility issues, they are now available to everyone.
How Do Reclining Beds Work?
Over years of research, studies have found that a comfortable sleeping position is essential for a good night's sleep. Recliner beds work on silent motors that adjust the height and angle of the bed base and mattress to fit the curve of your body for a fully-supported and comfortable night's sleep.
For superior comfort, some reclining beds are available with extra features such as massage and reading lights, but it will depend on the sort of reclining bed you purchase.
Why are Reclining Beds in the UK Popular?
When it comes to getting a good night's sleep, there is nothing better than a reclining bed. However, reclining beds weren't widely available for a long time, so harnessing their benefits is something that is still new to many people.
Adjustable beds have multiple benefits, including:
Reducing acid reflux
Increasing blood flow
Reducing back pain
Providing weightlessness throughout the night
Reduces symptoms of arthritis
Allows for a comfortable night's sleep
Increases independence for the elderly and those with reduced mobility.
Separate Mattresses, the Same Bed
Let's be honest, no two partners are completely compatible and most of us sleep differently to each other. While that's okay, it can make an uninterrupted night's sleep common. However, with our adjustable beds that is not a problem. Each side of an adjustable bed adjusts to your preferred position.
Enjoy a massage Every Day
Have you always enjoyed having a massage but you can't have one regularly because of how expensive they are? Well, reclining beds could be just what you need. While you're reading or watching TV from your bed, why not enjoy a massage at the same time? You can even enjoy the luxury of localising your massage to just your legs or your upper body. What could be better than that?
Customise Your Reclining Bed
Here at Grosvenor Mobility we are proud to offer our customers the opportunity to customise their reclining beds to suit their needs. Whether you want a reclining bed that's a particular colour, mattress choice (single, double, or split adjustable), style, or headboard or footboard, we offer all the options for you! By choosing a reclining bed through Grosvenor Mobility, you can choose all the elements you want in a bed and so much more!
Our Mobility Beds Include the Following Guarantees:
British-made
Handmade to measure
At Grosvenor Mobility, our reputation has been built by supplying high-quality goods and first-case service to all our customers. That's why we guarantee so much, because why should you expect anything less?
Enjoy a Free Home Demonstration Service
Here at Grosvenor Mobility we are proud to offer free, no-obligation home demonstration services to all our customers. Whether you want to see what a recliner bed would look like in your home or you simply want to find out how they work, our demonstration services are fantastic and can be carried out in the comfort of your own home at a time that suits you.
Call Grosvenor Mobility Today
Have you been searching for a reclining bed in the UK? Look no further than Grosvenor Mobility, we have all the reclining bed styles, colours and versions to suit your requirements. So, whatever you've been looking for in a reclining bed, it's likely we can offer it. Give us a call today to find out more about our reclining beds and see what we can offer you.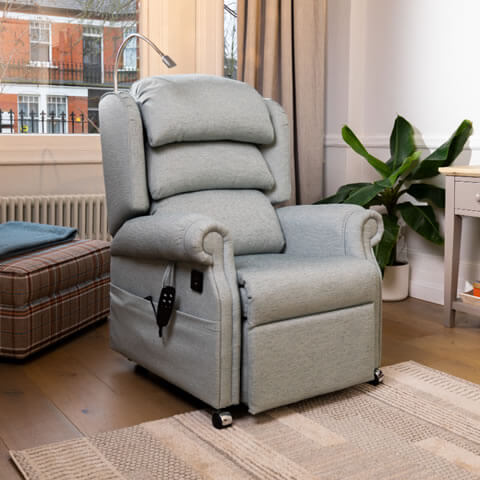 The Chair Collection
At Grosvenor Mobility, your comfort is our priority. We believe that everyone should have the freedom to be able to relax in complete comfort independently in their home. It's why we proudly supply only the highest quality Rise and Recline Chairs and Adjustable Beds to aid you in your home.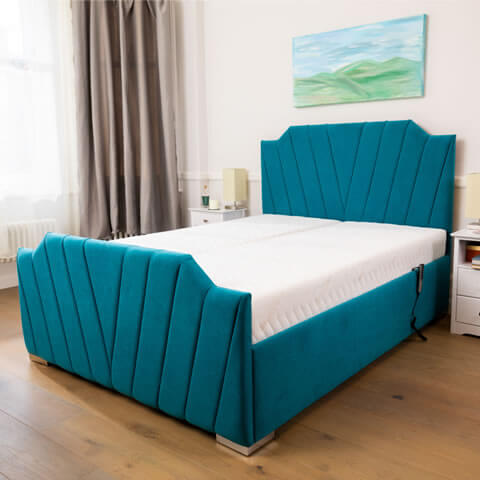 The Bed Collection
The bedroom is your sanctuary. It's your place to rest, unwind and totally relax. But to do so, you need the perfect bed; comfortable and luxurious. At Grosvenor Mobility our range of Adjustable Beds do just that. Featuring easy to use handsets that operate our ultra-quiet motors allowing you complete control at the touch of a button.